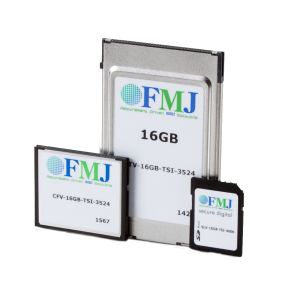 As the demand for performance and security in harsh environments escalates FMJ Enhanced Security solutions are increasingly appearing in embedded military and industrial embedded applications. For robust Power Protection, Lifecycle Monitoring, Logical Block Erase (LBE), Physical Block Erase (PBE), Password Protection and Auger-in are available for both legacy and new host systems.
FMJ Enhanced Security solutions use standard ATA commands sets, the unique advantage of these features is they use standard ATA read/write commands to implement the erase commands allowing for ease of implementation by the end customer.
Logical Block Addresses (LBA), erases all user data, MBR and partitions, this allow the user to reformat the drive via windows standard utility
Physical Block addresses (PBA), where all blocks are erased, this renders the drive useless and unrecoverable.
Password Protection, this allows the user to protect critical data via the host system's security algorithms.
Auger-in for legacy host systems, cards will read 00 instead of FF back when a block is erased.  This security feature also contains a destructive purge capability where all blocks are erased and the drive is rendered useless and unrecoverable.
Click here to learn more about FMJ's enhanced security products